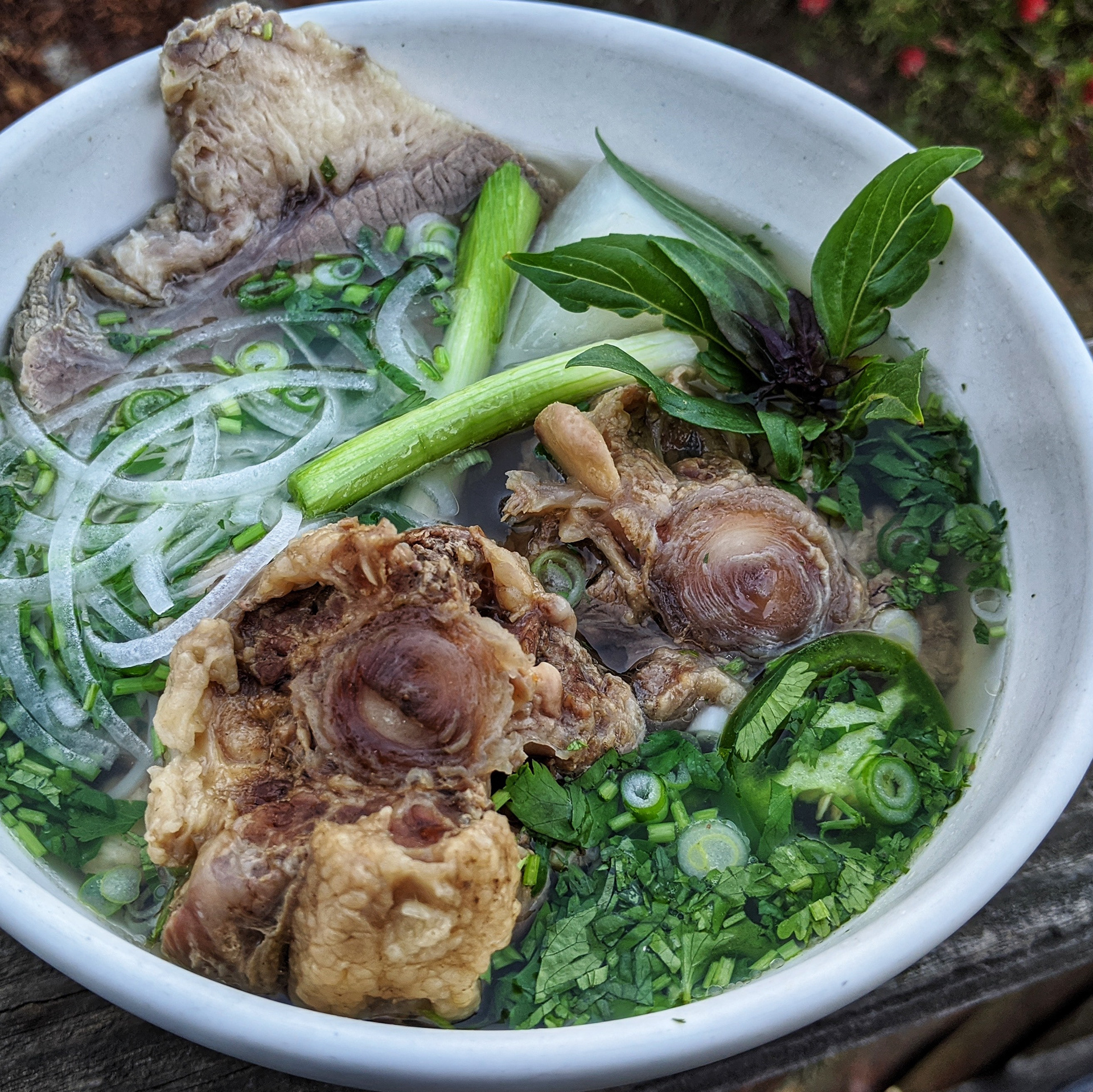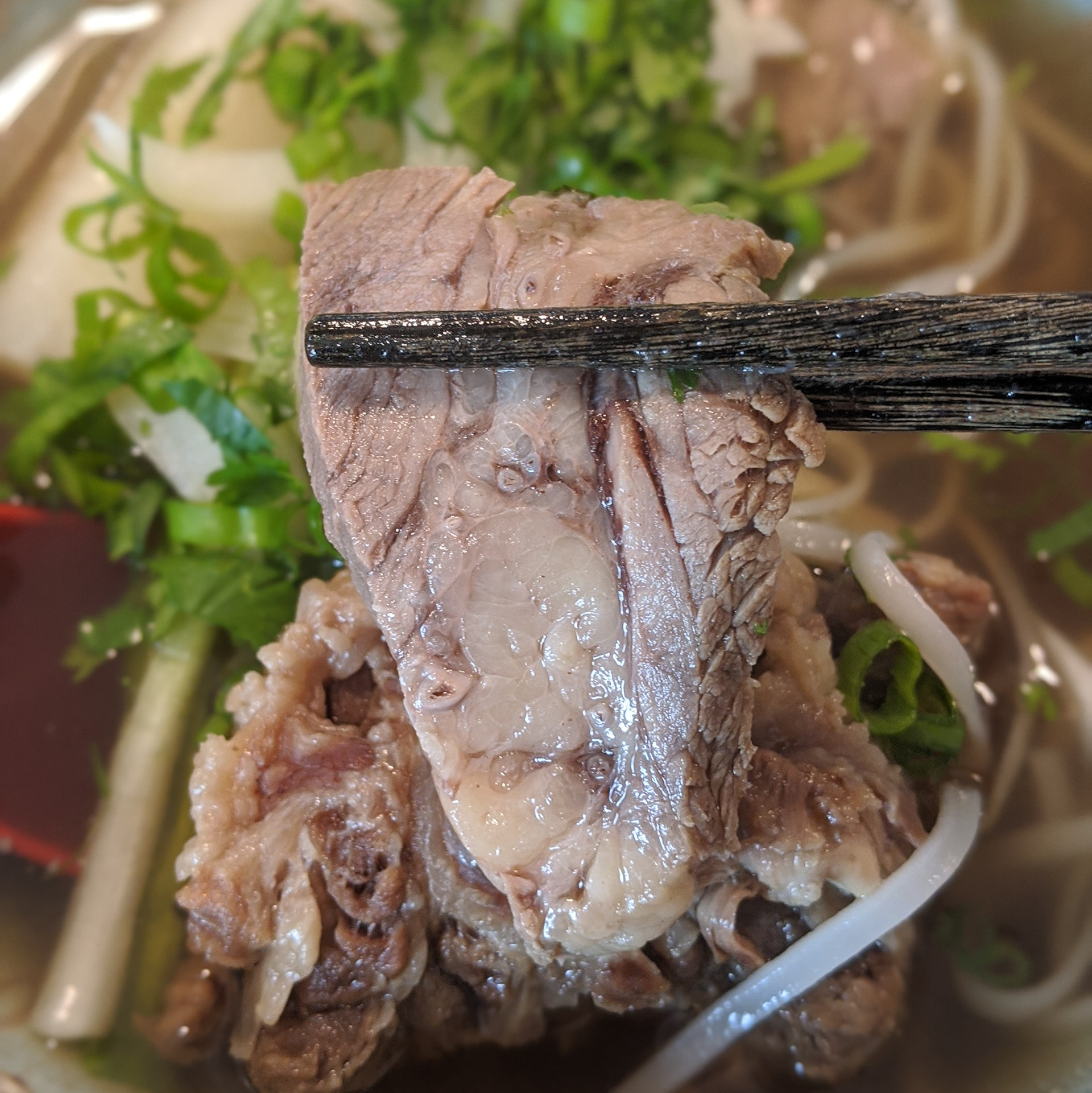 1 Pho Spice Mix + Muslin Bag 
(4 whole star anise, 1 ~2.5" to 3" cinnamon stick, 1 black cardamom seed, 1/2 tablespoon whole cloves, 2 tablespoons coriander seed, 2 tablespoons dried fennel seed)
4 Lbs Mix of Bone Marrows and Beef Bones
2-3 Lbs Oxtails
1 Yellow Onion, skin peeled
1 Fresh Ginger, ~3 inch size
1 Medium Daikon, cut into 3 inch pieces
3 Tablespoons Salt
Topping & Seasoning Options
Mungbean Sprouts
Thai Basil
1 Onion, thinly sliced
Spring Onions, finely chopped
Cilantro, finely chopped
Limes, cut into wedges
Jalapenos, finely sliced
Hoisin sauce
Sriracha
Black or white pepper
Fish sauce
2-3 Bags Pho Rice Noodle (fresh noodles are best, I get mine from
Weee!
)
4-5 lbs Mixed Beef Topping Options for Pho: Brisket, Flank, Filet Mignon
Want quality phở? Choose grass-fed meat.
The quality of your pho will be affected by the type of meat and bones you use. The specific meat cuts I use in my pho will produce a very rich, flavorful, silky broth. I highly recommend choosing organic, grass-fed, pasture-raised meats to truly enjoy the flavor of real, clean, pure beef. The quality and taste is much superior than conventional meat, and trust me, you will taste the difference of an animal that's free to roam around to graze the land vs one that's been raised in a factory. 
Please support farms that compassionately, humanely raise their animals and practice climate-positive, regenerative farming methods. It's better for us, the animals, and our planet.  
• Wash your ginger and cut it in half, lightly smash it with a tenderizer or the back of your knife to release the essence. 
• Get your longest pair of metal tongs ready for this part. Using a gas stove burner at medium heat, place your onion and ginger on top of the burner directly over the flames in medium heat. This part takes about 4 to 5 minutes. You want to char until the skin is burnt and fragrant. Use your tongs to rotate the ginger and onion so the char is even. Let it cool until you can handle it with your hands, rinse to remove the char. Set aside. This will be used to make the broth.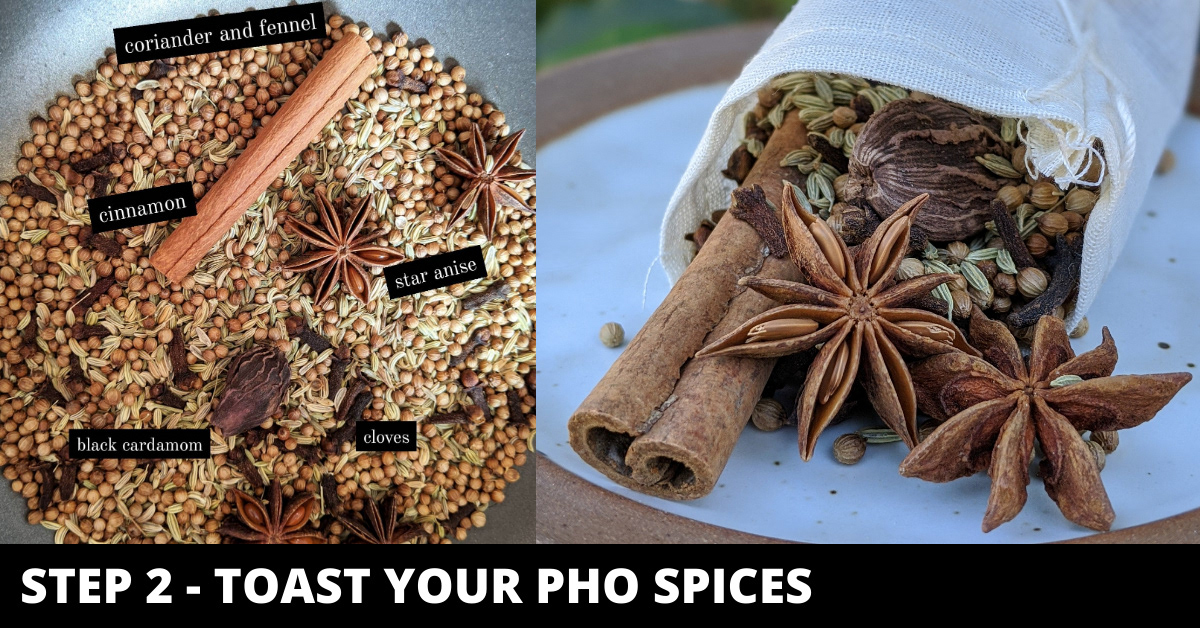 • Put all your pho spices into a frying pan on high-medium heat. Give it a
quick toast
until the aromatics are released, about 1-2 minutes, ensuring to shake it/flip the spices over in the process so it doesn't get burned. Remove spices from the pan into a dish to let it cool until ready to handle. 
• Put spices into the cloth bag. Set aside for later when ready to use in the broth. 
Note: The broth will take about ~6 hours to make. You will need two pots for this part: [1] your largest stockpot to make your broth and [2] a stockpot big enough to fit in your bones/oxtails for the par-broil. 

• In your largest stockpot, bring up to 7 quarts of water to a boil

• In the second pot, place the beef bones and oxtails then add water to cover and bring to a boil. Boil vigorously for 5 minutes to get rid of the impurities and ensure your bones are clean. This step is important to ensure you have clear broth, otherwise it will be cloudy. Keep a close eye on your pot in case of spillage once the water comes to a boil, depending on how big of a pot you're using. After five minutes, discard the water. Rinse and scrub the bones and oxtails under cold water.
• Add charred onion and ginger, clean beef bones and oxtails, beef flank or brisket to your large stockpot of boiling water. Bring water back to a boil over high heat, uncovered, then reduce the heat to a gentle simmer for two hours. You will need to use a fine strainer or ladle to skim off scum and fat that rises to the surface frequently over the 6 hours to avoid cloudy broth. 
• At 2 hours: It's time to check your flank or brisket to see if it's tender, pierceable with a fork. If not, continue to simmer until so. If flank or brisket are ready, remove into a large bowl and soak it in cold water until it's not hot, easy to touch. This reason for the cold soak is so the meat doesn't discolor. Drain water from the meat, put it on a plate or container, covered, then place it into the fridge to continue cooling. Remove brisket or flank from the fridge when it's completely cool, thinly slice it. This will be used in your pho bowl when you put it together when ready to serve. Leave in fridge until ready to use.
• Your broth will continue to simmer with the remaining bones and oxtails for another 4 hours.
• At 3 hours: Add in your prepared pho spice bag. Simmer for 1 hour. 
• At 4 hours: Remove and discard the spice bag, ginger and onion. Continue to simmer the bones and oxtails. 
• At 5 hours: Season the broth with salt, rock sugar, MSG. 
• At 5.5 hours: Add daikon radish. Continue to simmer the broth for another 30 minutes until daikon is tender. 

• At 6 hours: Congratulations! At this point your broth is done! Taste and adjust seasoning as necessary.  

I prefer using fresh pho noodles (pictured above) and I get mine from
Weee!
 for less than $2. If you are using dry pho noodles, remove noodles and soak noodles in hot water for two minutes. Drain and set aside.  
• Fill a pot with water and bring to a boil. Add in noodles. The cooking process will be very quick - check at the 10 second mark by testing a noodle to see if it's chewy/texture to your preference. If not, continue to cook until desired texture. I typically cook it to the 1 minute mark. You want to quickly taste until desired, or you will get mushy broken noodles :(. 
• Quickly drain the noodles into a strainer and quickly add in noodles to your serving bowls. If you leave your noodles out to dry in the strainer for too long, it will be sticky, difficult to handle and get clumpy. 
• To serve: Place the noodles in a bowl. Place a few slices of the flank, brisket, and any other meat, you want on top of the noodles. If using filet mignon, slice it thinly, add meat raw over noodles —the hot broth will cook it instantly in the next step.
• Bring the broth to a soft rolling boil; ladle broth into each bowl. Add oxtails, bone marrows, radish as desired to the bowl. 
• Garnish with vegetables, herbs and seasoning to your preference. Enjoy immediately while it's hot.